A great example of a versatile Interior Designer, how amazing is this Indoor swimming pool design!
Carmen at Hub design is responsible for the Interior Design and project management of this Queenstown home, which includes this beautiful indoor swimming pool. Nestled under an internal bridge walkway with views overlooking lake Wakatipu, this indoor pool provides a sleek and subtle layer of functionality to this family home. The space required practicality and durability in the design to sustain a child-friendly environment which also suits entertaining and relaxing.
Using pops of colour, multi-hued lights and clever furnishings, Carmen was able to create a practical yet alluring pool space which feels cohesive with the rest of the home.
Tiles and lighting
Custom glass mosaic tiles provide depth of colour in a striking multi toned blue, while being low-maintenance and robust in an active and wet area, paired with a neutral matt tile for the flooring.
The entsuite-accessed end of the pool is highlighted with a stunning cluster of suspended pendants with chromed metal structure and borosilicate glass. The outer shade is available in transparent, gold, silver, iridescent, pink-gold, black, white or gold glass. Inner shade is sandblasted. Shop the Glo lamps here https://www.hubdesign.nz/products/glo-pendant-light/
The pool itself is fitted with custom underwater LED lights which change colour using the main controls, adding a touch of ambience and fun to a usually sparse area.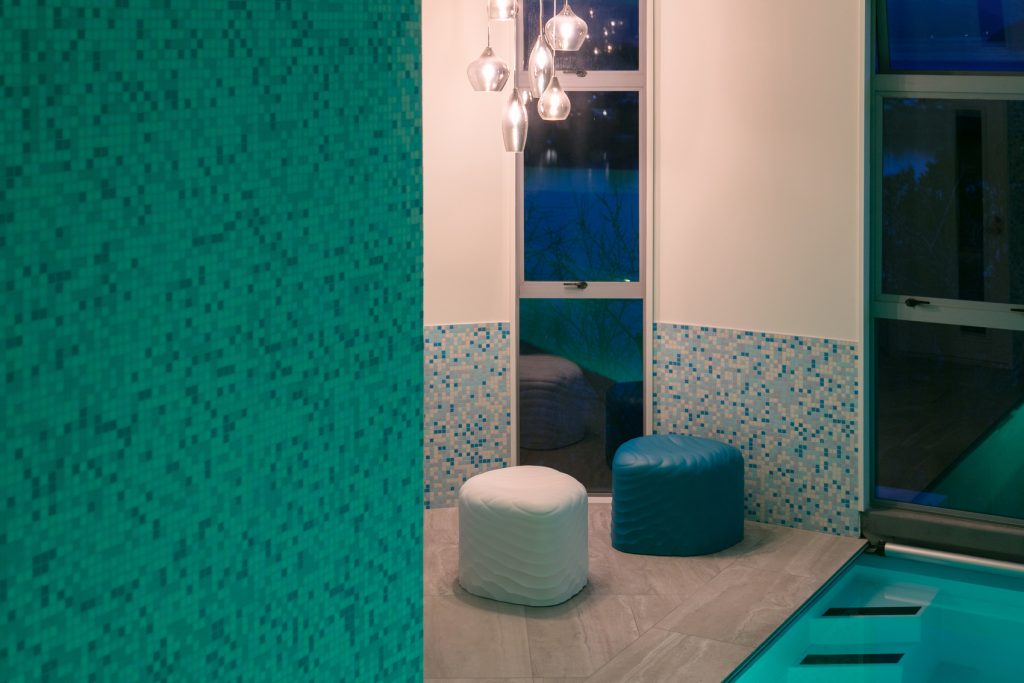 Pool Furniture
The client wanted space saving furniture that was comfortable for the kids but also waterproof and appropriate for indoor and outdoor areas. The River stone Poufs are a great furniture solution because they suit multiple spaces; from children's bedrooms or bathrooms to terraces or swimming pools. The River stone amazes with its organic shape, 3D skin and soft touch. The modular pouf is made in two different sizes. Made in the material soft touch plus is comfortable, durable, easy to move and waterproof. 100% hygienic, nontoxic, easy to clean and available in a variety of colours. Shop the Riverstone Pouf here https://www.hubdesign.nz/products/riverstone-pouf/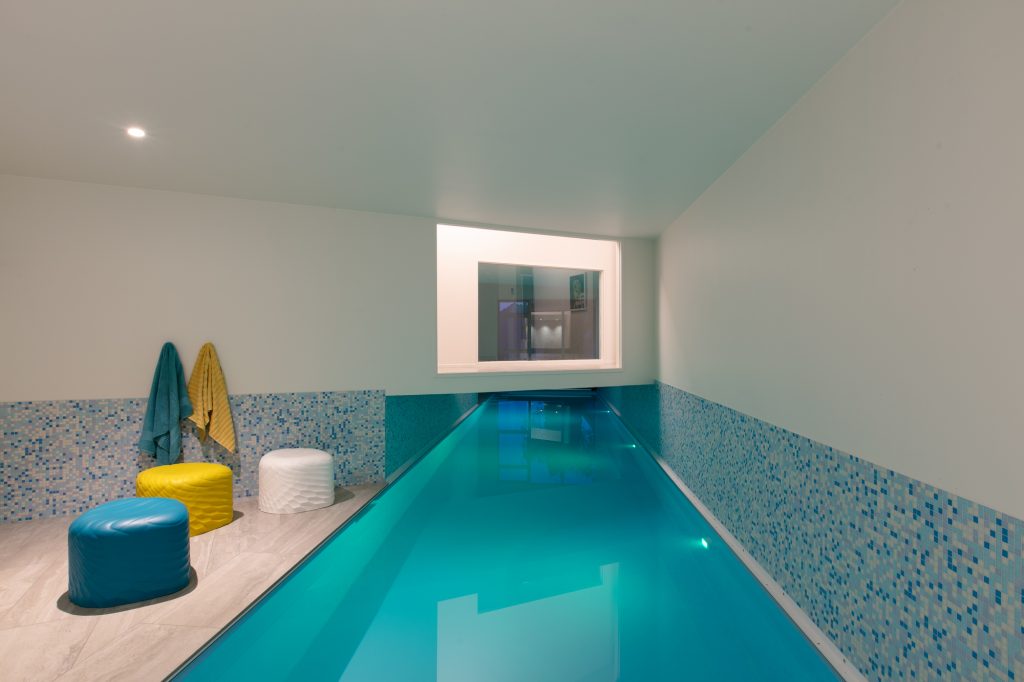 The finished product has led to a happy client with very excited kids will be enjoying this swimming pool area for years to come.
Carmen and the team are more than happy to discuss tiling, furniture, lighting, textile and design options for your indoor/outdoor pool space.